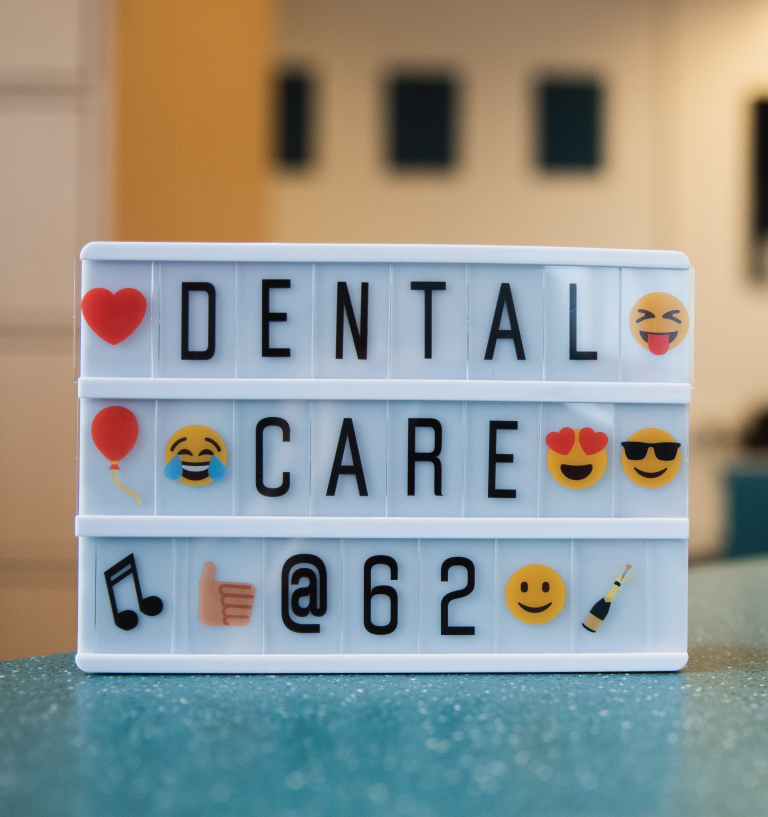 At Dental Care @ 62 we aim to achieve aesthetic and oral well-being that you desire through technical excellence and superior skills, while respecting your time, comfort and peace of mind.
Our dental team is well experienced and trained. We offer a wide range of services including endodontics, oral surgery, orthodontics, aesthetic dentistry, facial cosmetics, hygiene and preventive dentistry. We respect our patient's concerns and ensure every effort is taken to offer top quality services. We successfully deal with anxious patients with our midas touch and reassure that they are in safe hands.
VISION
At Dental Care @ 62, we ensure diligence measures are executed consistently to deliver high standards of care. We aim at delivering best practice and engage in patient feedback to tailor their needs and expectations. We ensure to maintain Dental Care @ 62 the State of the Art Practice in Marple delivering smiles and confidence to all our patients. We always welcome feedback from our patients and make any changes that may be required. We always try to fulfill our mission and ensure patient's painless experience. The Principal Dentist, Veenu believes that treating patients with empathy and skilled hands can put them at ease. This helps them to be motivated to dental hygiene and drive away the fear of dentists. He believes that a perfect dentist has the happiest patients and to ensure this, he has upgraded the practice compliance to high standards.
MISSION
Veenu tells all his patients that YOUR HAPPINESS IS OUR MOTTO. At Dental Care @ 62, we ensure there is always a practice based quality assurance system in place. We ensure to have all standards of Health and Safety in order to keep the practice, patients and employees in a a safe environment. We deliver a high quality care and this is a statement for all our patients, whether on NHS, Practice Plan or Private. All patients are treated with high degree and consistent appropriate care. We have procedures and protocols in place, in order to ensure appropriate cross infection control. All Health and Safety guidelines are well adapted in order to ensure safe practice. Our practice is fully equipped and it is our aim to stay at the leading edge of dental techniques and materials. Appropriate training is given to the staff members in order to ensure our patient's enjoy the best practice. We update our policies regularly and ensure high standards of clinical governance is maintained at all times.
Veenu Singla is phenomenal, qualified, hardworking, honest and highly reputed dentist.
He is caring, ethical, highly experienced and thoroughly educated Dentist with Special Interests in Endodontics, Oral Surgery, Orthodontics and Aesthetic Dentistry. He completed his Post Graduation (Masters in Endodontics) from the University of Manchester in 2006. Following that he started his dental career at prestigious Aberdeen Royal Infirmary 2007, where he had the privilege to get his dental skills trained at the Maxillofacial Unit and Restorative Dentistry. He advanced his dental skills in Restorative dentistry (Fillings, dentures, crowns and bridges) and Maxillofacial Unit (surgical dentistry). Following this he went into the primary care services and has been practicing as a General Dental Practitioner in Aberdeen since 2009. During this period he has also served as a VT Trainer and been actively involved in training freshly graduate dentists. He is renowned for his reputation and is dearly missed and loved by all his patients and fellow colleagues in Aberdeen. Dr Duncan Harrop and Veenu Singla go back a long way because of which he was able to take over this practice following the retirement of Mr. Harrop in 2017. Veenu has settled in very well and the patients are thoroughly enjoying high standard of care under his care. He has also made sure that all policies and safety measures have been undertaken to ensure best practice. Veenu is very keen to meet all his patients and look after their families and friends. He looks forward to welcoming every patient and deliver Gold Standard care. Due to his vivacious nature and commitment to dentistry, he has served as the President of the British Dental Association North of Scotland Branch, Chair of BDA Aberdeen Section and we are pleased to inform that he has recently been appointed as the Chair of the BDA Stockport / Mid Cheshire Sections. We have patients coming in to see Veenu from other parts of England and Scotland and he is excited to welcome patients from all over the Cheshire and Greater Manchester.